Philips Gaming 242E1GAJ - 23.8 inch FHD Monitor 144 Hz 1ms VA AMD FreeSync 1920 x 1080
Shipping To All Egypt
50% off shipping on (Monitors - PC bundles -laptops)
Estimated to be delivered on average between 2 to 3 days
Shipping
We can ship to virtually any address in Egypt.
When you place an order, we will estimate shipping and delivery dates for you based on the availability of your items and the shipping options you choose.
Enjoy With Compumarts Warranty
عزيزى العميل
شركة سوق الكمبيوتر هى وسيط بينك وبين الوكيل ولسنا المصنعين يرجى قراءة الشروط التالية لسهولة تقديم أفضل خدمة لك : مدة الضمان 11 شهر من تاريخ الشراء ضد عيوب الصناعة وليس عطل Software . يلتزم المشتري بتوفير الفاتورة في حالة الخلاف علي تاريخ الشراء. مدة الصيانة 15 يوم قابلة للزيادة لا يحسب ضمنها أيام الخميس والجمعة والسبت والاجازات الرسمية والاعياد .
يسقط الضمان في الحالات الاتية: عدم الحرص في التعامل ودون حصر ( العيوب الناتجة عن الأجسام الحادة - أو الثني - أو الضغط - أو الإسقاط – الكسر او الشرخ ... إلخ ). عيوب ناتجة عن تعرض الجهاز لمّس كهربائي. إذا تم فتح المنتج أو التعديل فيه أو إصلاحه بواسطة أي شخص أخر خلاف الوكيل المعتمد ، أو إذا تم إصلاحه باستخدام قطع غيار غير مصرح بها، أو تعرض الرقم بالملصقات علي المنتج للإزالة أو لمحاولة الإزالة. إذا تعرض المنتج للرطوبة أو البلل، أو تعرض لظروف حرارية أو بيئية متفاوتة بدرجة شديدة أو لتغيرات سريعة في هذه الظروف، كما لا يسرى هذا الضمان إذا تعرض المنتج لعمليات التآكل والأكسدة ، أو انسكاب الأطعمة أو السوائل عليه ، أو تعرض للمنتجات الكيمائية . الأضرار الناتـجة من سوء الاستخدام (الإهمال – الحمل الزائد – عدم الإلتزام بتعليمات التشغيل الـموضحة فى كتالوج التشغيل الـمرفق مع الـمنتج - عدم الالتزام بتعليمات التخزين).
Dear customer
Compumarts is an intermediary between you and the Official Agents and we are not the manufacturers . Please read the following terms : Warranty lasts for 11 months starts from the purchase date against manufacturing defects, not software malfunction. The Customer is obligated to provide the invoice in the event of a dispute over the date of purchase. The maintenance period is 15 day-In some cases could be more- not including Thursdays, Fridays, Saturdays, and official holidays.
The warranty is voided in the following cases: Not being careful in handling (defects resulting from sharp objects, bending, pressure, dropping, fracture or crack ... etc.). Defects caused by electrical shock with the device. If the product has been repaired by unauthorized replacement parts, or the serial / label number has been removed or updated. If the product exposed to moisture or oxidation. The result of misuse (negligence - overloading - non-compliance with the operating instructions indicated in the operating catalog attached with the product - failure to link to the instructions).
Online Support
Online customer service and technical support
customers are viewing this product
Philips Gaming 242E1GAJ

89

-

23.8

 
inch FHD Monitor 144 Hz 1ms VA AMD FreeSync 1920 x 1080


LCD panel type     VA LCD


Backlight type  W-LED system


Panel Size  23.8 inch/60.5 cm


Display Screen Coating   Anti-Glare, 3H, Haze 25%


Effective viewing area   597.89 (H) x 336.31 (V) mm


Aspect ratio  16:9


Maximum resolution    1920 x 1080 @ 144 Hz*


Pixel Density  82 PPI


Response time (typical)  4 ms (Grey to Grey)*


MPRT  1 ms


Brightness  350  cd/m²


Contrast ratio (typical)  3000:1


SmartContrast  Mega Infinity DCR


Pixel pitch  0.3114 x 0.3114 mm


Viewing angle  178º (H)/178º (V)   @ C/R > 10
Picture enhancement   SmartImage game


Colour gamut (typical)  NTSC 101.5%*, sRGB 121.9%*


Display colours  16.7 M


Scanning Frequency  30 - 160 kHz (H) / 48 - 144 Hz (V)


sRGB  Yes 


Flicker-free  Yes


LowBlue Mode  Yes


EasyRead  Yes


AMD FreeSync™ technology  Premium
E Line

24 (23.8"/60.5 cm diag.)

1920 x 1080 (Full HD)

VA display delivers awesome images with wide viewing anglesThe Philips VA LED display uses an advanced multi-domain vertical alignment technology that gives you super-high static contrast ratios for extra-vivid and bright images. While standard office applications are handled with ease, it is especially suitable for photos, web browsing, films, gaming and demanding graphical applications. Its optimised pixel management technology gives you a 178/178 degree extra-wide viewing angle, resulting in crisp images.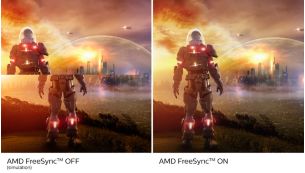 AMD FreeSync™ Premium; tear free, stutter free, fluid gaming
Gaming shouldn't be a choice between choppy gameplay or broken frames. AMD FreeSync™ Premium equips serious gamers with a fluid, tear-free gameplay experience at peak performance. There are no compromises, game confidently with a high refresh rate, low framerate compensation and low latency.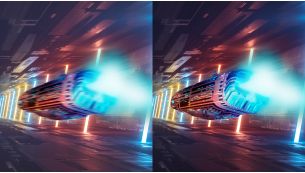 144 Hz refresh rates for ultra-smooth, brilliant images
You play intense, competitive games. You demand a display with lag-free, ultra-smooth images. This Philips display redraws the screen image up to 144 times per second, effectively 2.4x faster than a standard display. A lower frame rate can make enemies appear to jump from spot to spot on the screen, making them difficult targets to hit. With 144 Hz frame rate, you get those critical missing images on the screen, showing enemy movement in ultra-smooth motion so you can easily target them. With ultra-low input lag and no screen tearing, this Philips display is your perfect gaming partner0

Less eye fatigue with Flicker-Free technology
Due to the way brightness is controlled on LED-backlit screens, some users experience flicker on their screen which causes eye fatigue. Philips Flicker-Free technology applies a new solution to regulate brightness and reduce flicker for more comfortable viewing.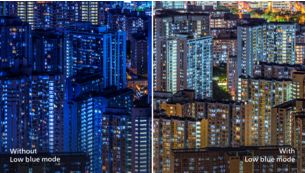 LowBlue Mode for easy-on-the-eyes productivity
Studies have shown that just as ultra-violet rays can cause eye damage, shortwave-length blue light rays from LED displays can cause eye damage and affect vision over time. Developed for wellbeing, the Philips LowBlue Mode setting uses a smart software technology to reduce harmful shortwave blue light.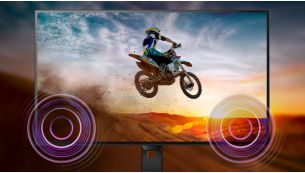 Built-in stereo speakers for multimedia
A pair of high-quality stereo speakers built into a display device. They may be visible front firing, or invisible down firing, top firing, rear firing etc. depending on model and design.

SmartContrast for rich black details
SmartContrast is a Philips technology that analyses the contents you are displaying, automatically adjusting colours and controlling backlight intensity to dynamically enhance contrast for the best digital images and videos or when playing games where dark hues are displayed. When Economy mode is selected, contrast is adjusted and backlighting fine-tuned for just-right display of everyday office applications and lower power consumption.

16:9 Full HD display for crisp, detailed images
Picture quality matters. Regular displays deliver quality, but you expect more. This display features enhanced Full HD 1920 x 1080 resolution. With Full HD for crisp detail paired with high brightness, incredible contrast and realistic colours, expect a true-to-life picture.