MSI B560M PRO-VDH (mATX, 11th/10th Gen Intel Core, LGA 1200 Socket, DDR4, PCIe 4, CFX, M.2 Slots, USB 3.2, 2.5G LAN, DP/HDMI)
Shipping To All Egypt
50% off shipping on (Monitors - PC bundles -laptops)
Estimated to be delivered on average between 2 to 3 days
Shipping
We can ship to virtually any address in Egypt.
When you place an order, we will estimate shipping and delivery dates for you based on the availability of your items and the shipping options you choose.
Enjoy With Compumarts Warranty
عزيزى العميل
شركة سوق الكمبيوتر هى وسيط بينك وبين الوكيل ولسنا المصنعين يرجى قراءة الشروط التالية لسهولة تقديم أفضل خدمة لك : مدة الضمان 11 شهر من تاريخ الشراء ضد عيوب الصناعة وليس عطل Software . يلتزم المشتري بتوفير الفاتورة في حالة الخلاف علي تاريخ الشراء. مدة الصيانة 15 يوم قابلة للزيادة لا يحسب ضمنها أيام الخميس والجمعة والسبت والاجازات الرسمية والاعياد .
يسقط الضمان في الحالات الاتية: عدم الحرص في التعامل ودون حصر ( العيوب الناتجة عن الأجسام الحادة - أو الثني - أو الضغط - أو الإسقاط – الكسر او الشرخ ... إلخ ). عيوب ناتجة عن تعرض الجهاز لمّس كهربائي. إذا تم فتح المنتج أو التعديل فيه أو إصلاحه بواسطة أي شخص أخر خلاف الوكيل المعتمد ، أو إذا تم إصلاحه باستخدام قطع غيار غير مصرح بها، أو تعرض الرقم بالملصقات علي المنتج للإزالة أو لمحاولة الإزالة. إذا تعرض المنتج للرطوبة أو البلل، أو تعرض لظروف حرارية أو بيئية متفاوتة بدرجة شديدة أو لتغيرات سريعة في هذه الظروف، كما لا يسرى هذا الضمان إذا تعرض المنتج لعمليات التآكل والأكسدة ، أو انسكاب الأطعمة أو السوائل عليه ، أو تعرض للمنتجات الكيمائية . الأضرار الناتـجة من سوء الاستخدام (الإهمال – الحمل الزائد – عدم الإلتزام بتعليمات التشغيل الـموضحة فى كتالوج التشغيل الـمرفق مع الـمنتج - عدم الالتزام بتعليمات التخزين).
Dear customer
Compumarts is an intermediary between you and the Official Agents and we are not the manufacturers . Please read the following terms : Warranty lasts for 11 months starts from the purchase date against manufacturing defects, not software malfunction. The Customer is obligated to provide the invoice in the event of a dispute over the date of purchase. The maintenance period is 15 day-In some cases could be more- not including Thursdays, Fridays, Saturdays, and official holidays.
The warranty is voided in the following cases: Not being careful in handling (defects resulting from sharp objects, bending, pressure, dropping, fracture or crack ... etc.). Defects caused by electrical shock with the device. If the product has been repaired by unauthorized replacement parts, or the serial / label number has been removed or updated. If the product exposed to moisture or oxidation. The result of misuse (negligence - overloading - non-compliance with the operating instructions indicated in the operating catalog attached with the product - failure to link to the instructions).
Online Support
Online customer service and technical support
customers are viewing this product
MSI B560M PRO-VDH (mATX, 11th/10th Gen Intel Core, LGA 1200 Socket, DDR4, PCIe 4, CFX, M.2 Slots, USB 3.2, 2.5G LAN, DP/HDMI)
MSI B560M PRO-VDH (mATX, 11th/10th Gen Intel Core, LGA 1200 Socket, DDR4, PCIe 4, CFX, M.2 Slots, USB 3.2, 2.5G LAN, DP/HDMI)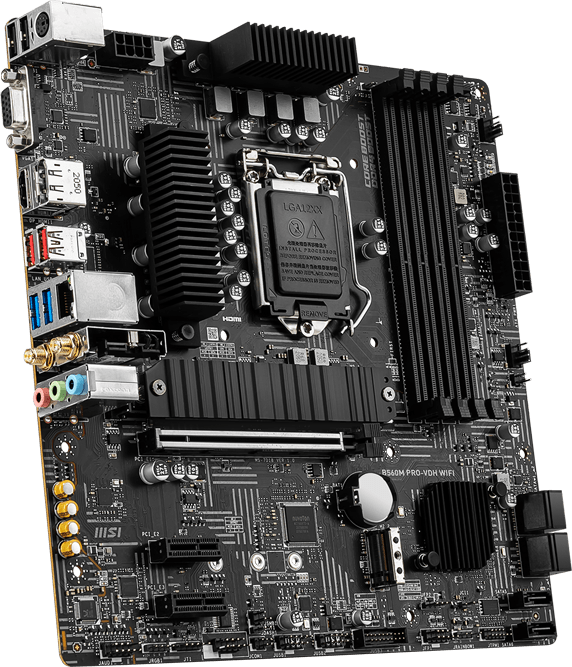 Supports 10th Gen Intel Core, 11th Gen Intel Core, Pentium Gold and Celeron processors for LGA 1200 socket
Supports DDR4 Memory, up to 5066(OC) MHz
Core Boost: With premium layout and digital power design to support more cores and provide better performance.

DDR4 Boost: Advanced technology to deliver pure data signals for the best performance and stability.
Lightning Fast Experience: PCIe 4.0, Lightning Gen4 x4 M.2 with M.2 Shield Frozr
2.5G LAN: Upgraded network solution for professional and multimedia use. Delivers a secure, stable and fast network connection
Audio Boost: Reward your ears with studio grade sound quality
Steel Armor: Protecting VGA cards against bending and EMI for better performance, stability and strength.


An Intel B560 powered micro ATX motherboard that offers a solid foundation for your next office, home or gaming PC based on the latest 11th / 10th gen Intel Core processors. It combines premium components, comprehensive onboard cooling, and next-gen connectivity including PCI 4.0 and 2.5 GBE LAN. Three video outputs (VGA, DisplayPort, and HDMI) offer broad display compatibility, while built-in Wi-Fi & Bluetooth bring you out-of-the-box wireless convenience, no dongle required.



USER FRIENDLY DESIGN
MSI motherboards feature tons of convenient and smart design for DIY users. Countless system tuning and troubleshooting tools are at your disposal to push your system to new heights and satisfy even the most demanding tweakers. Makes it so easy to install your own motherboard without any issue.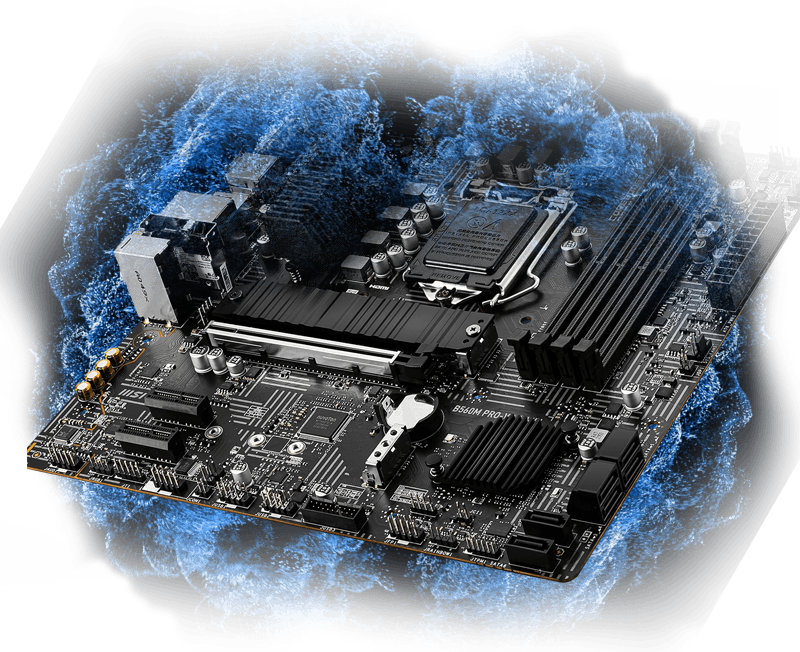 M.2 SHIELD FROZR


World's fastest SSDs can turn to lower performance when getting hot. Part of the motherboard's heatsink design, M.2 SHIELD FROZR is the next generation M.2 thermal solution to avoid this by offering the best thermal protection to make sure that SSD maintains maximum performance.
FROZR AI COOLING
Detecting CPU & GPU temperatures and automatically adjusting parameters of system fans to a proper value by adopting MSI AI ENGINE.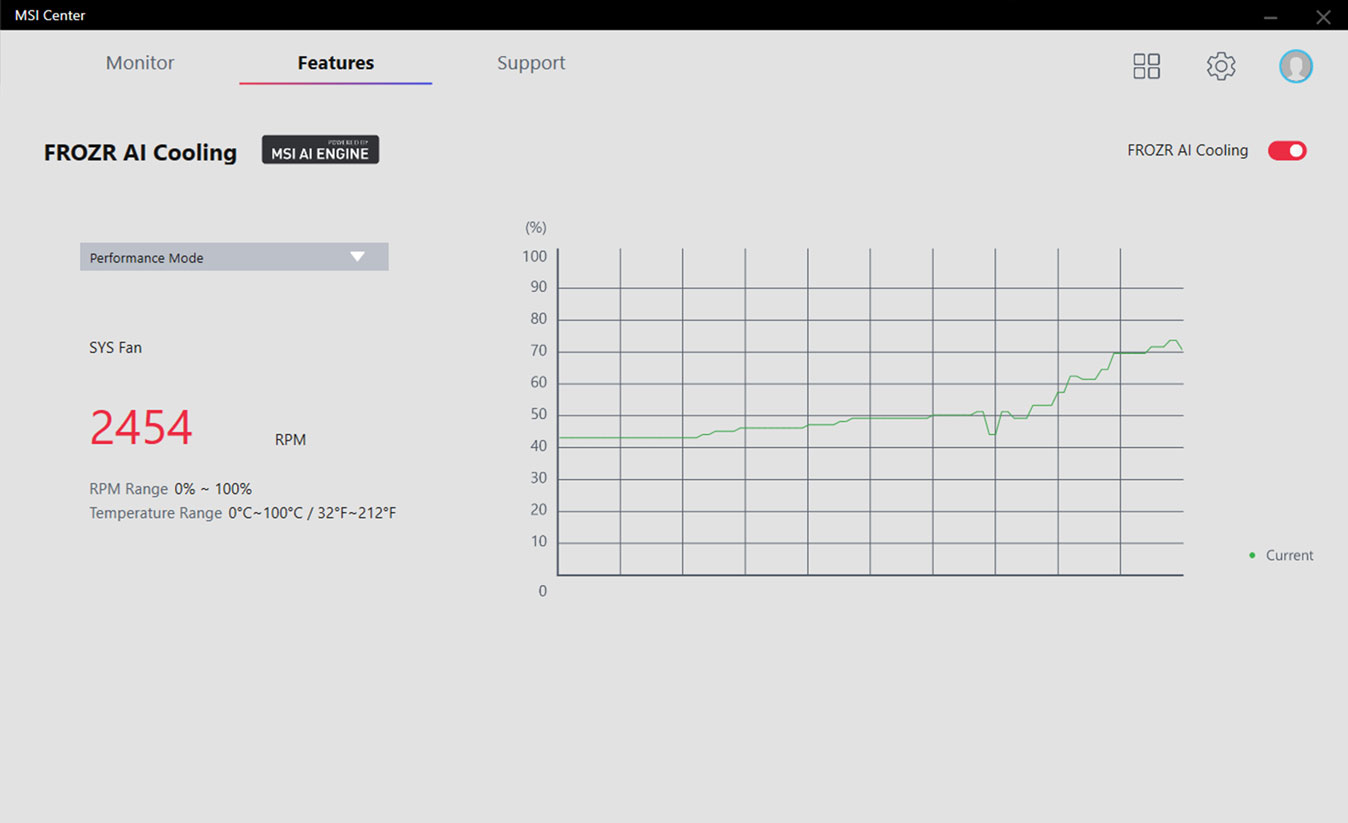 Performance mode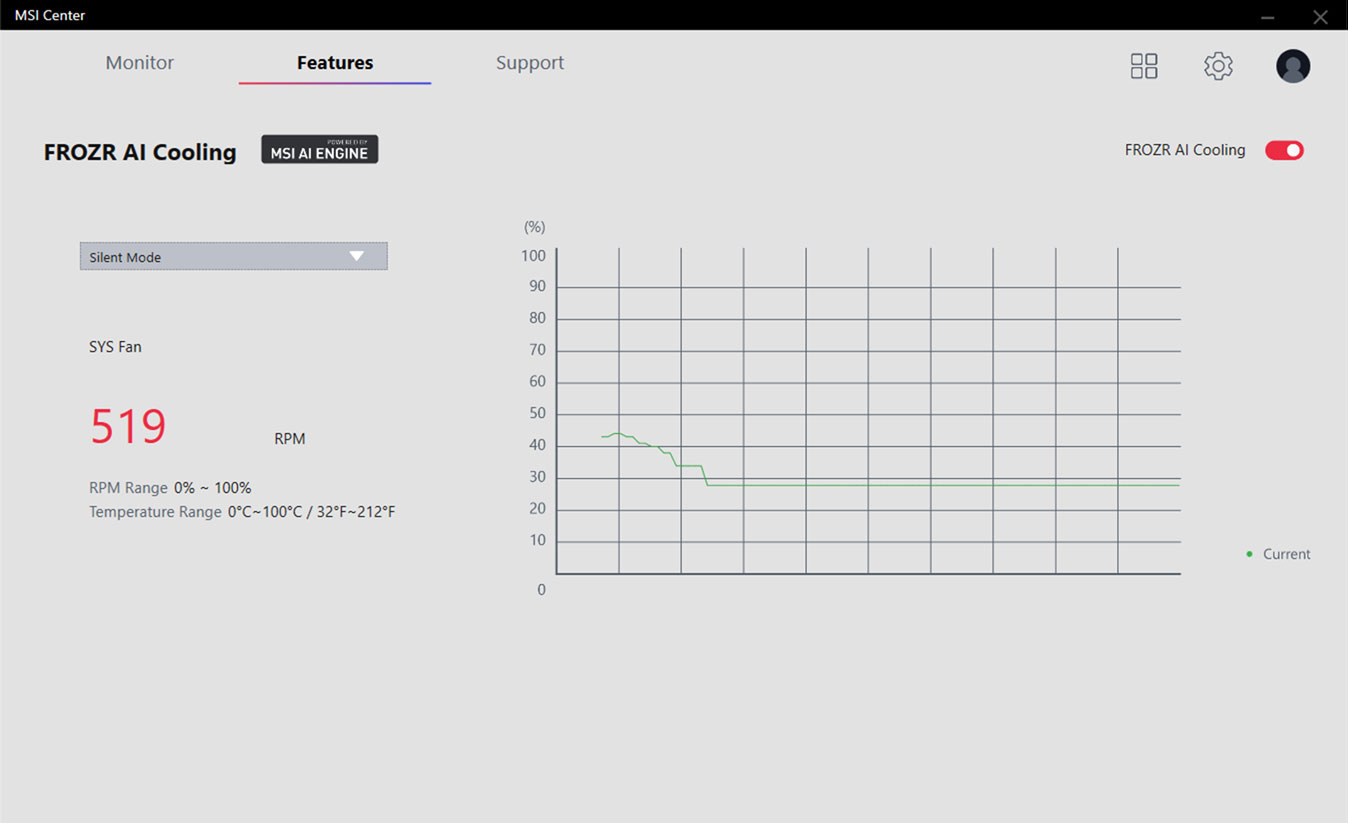 Silent mode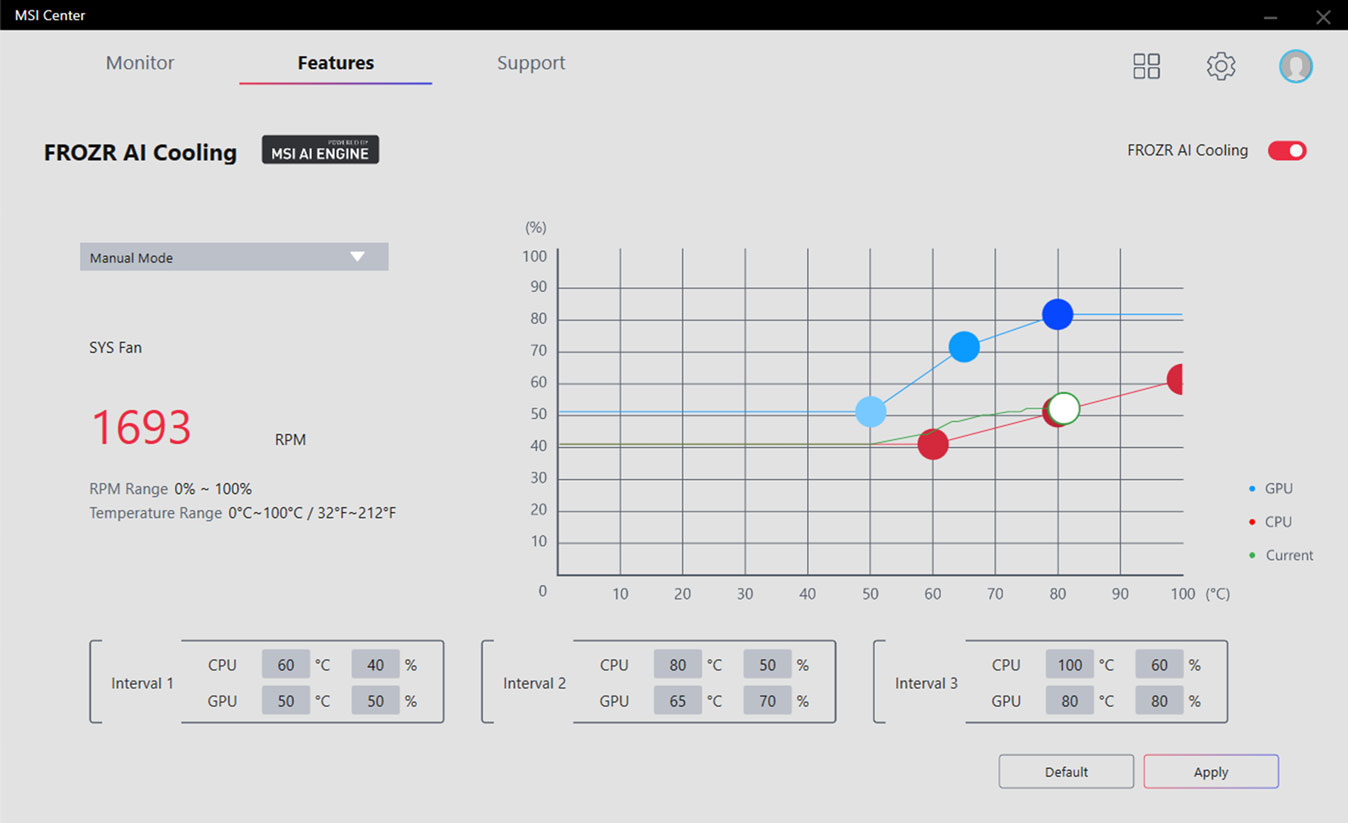 Manual mode
FULLY CONTROLLABLE IN BIOS AND SOFTWARE
MSI motherboards let you manage speeds and temperatures for all your system and CPU fans. Total Fan Control allows you to check your primary system characteristics in a simplified graphical interface. You can also set up to four temperature targets for CPU and motherboard, which will adjust the fan speeds automatically.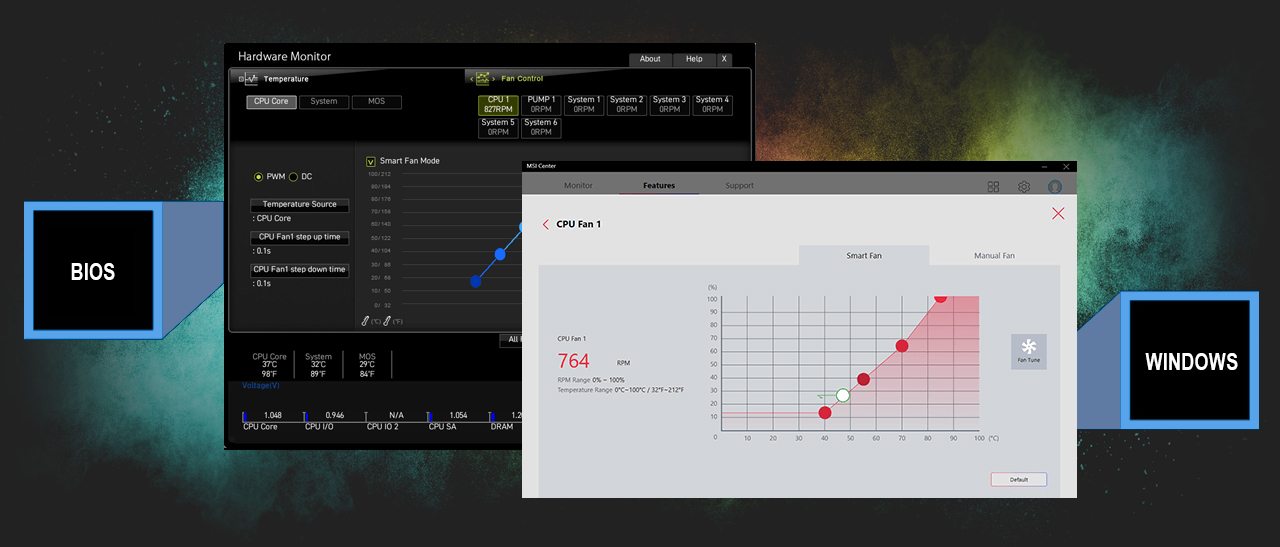 EZ DEBUG LED


Ran into trouble? Onboard LEDs for key components will indicate the source of the problem so you know exactly where to look to get it up and running again.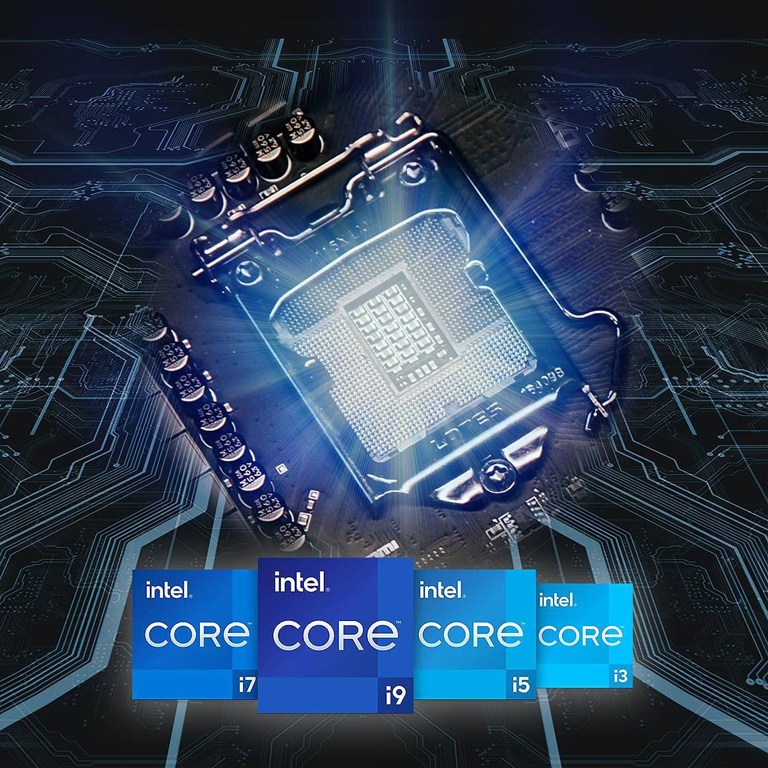 11TH GEN CORE PROCESSORS SUPPORT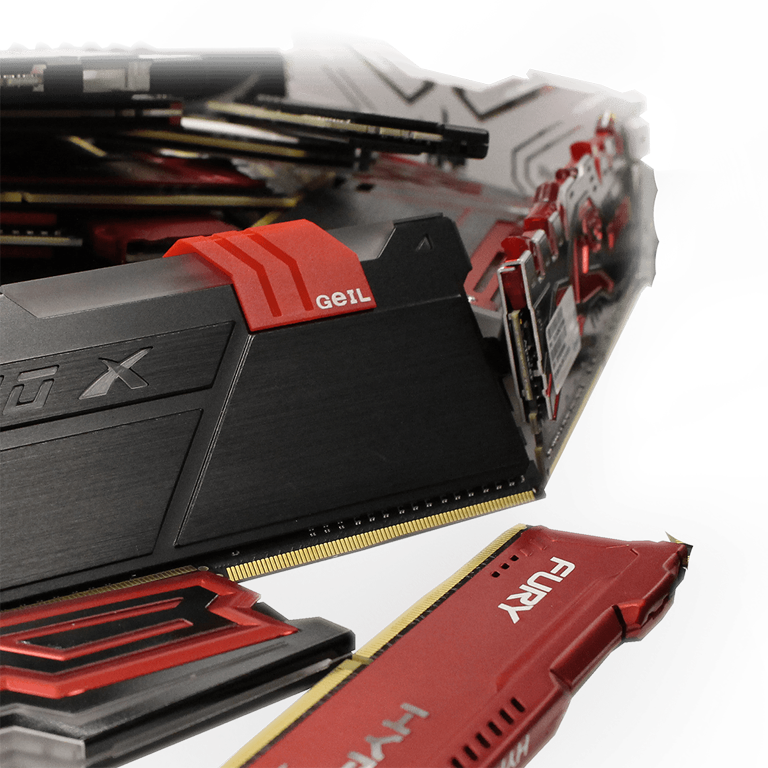 EXTREME STABILITY & COMPATIBILITY TESTING FOR MEMORY


WINDOWS 10 CERTIFIED
FORTIFY YOUR SYSTEM WITH PCI-E STEEL ARMOR
MSI PCI Express Steel Armor slots are secured to the motherboard with extra solder points and support the weight of heavy graphics cards. When every advantage in games counts, Steel Armor shields the point of contact from electromagnetic interference.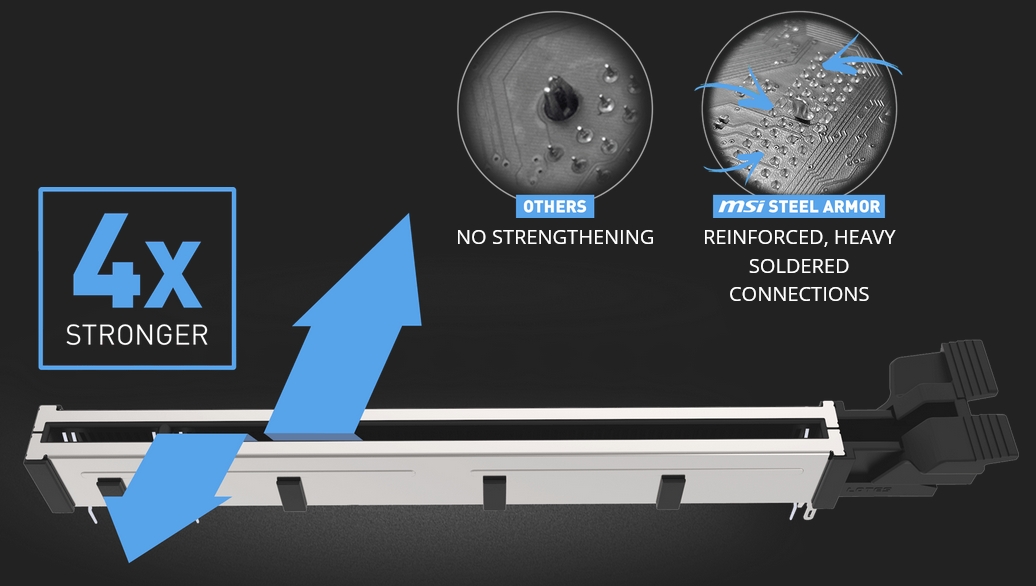 CONNECTIVITY
The most important thing of DIY is expandability. MSI PRO series motherboards feature plenty possibility for prosumers' need. Stable LAN, faster storage and USB transfer speed and other expandable connectors are ready to enlarge your flexibility.
HIGH-BANDWIDTH AND LOW-LATENCY NETWORK
2.5Gbps LAN provides incredible data transfer speed faster than general Gigabit LAN. This is a premium solution for demanding users.

SURFACING WITH THE REAL MU-MIMO TECHNOLOGY
The WIFI 6 adopts the latest OFDMA and two-way MU-MIMO technologies and could provide up to 4X network capacity and efficiency in the high signal density environment. Compared to the WIFI 5, which can only send the data packet to one device at a time on each channel, the WIFI 6 could combine the packet, separate to several devices and allow signals from different devices bundled together. This new technology provides all the devices in the same network environment with same and harmonious traffic bandwidth in an efficient way.

OPTIMIZE NETWORK FOR LOWER LATENCY!


MSI LAN Manager automatically classifies and prioritizes the latency-sensitive applications, giving you the best online experience with low latency.
MSI LAN MANAGER


- Allows you to change applications' traffic priority -
- Allows you to customize bandwidth for each application -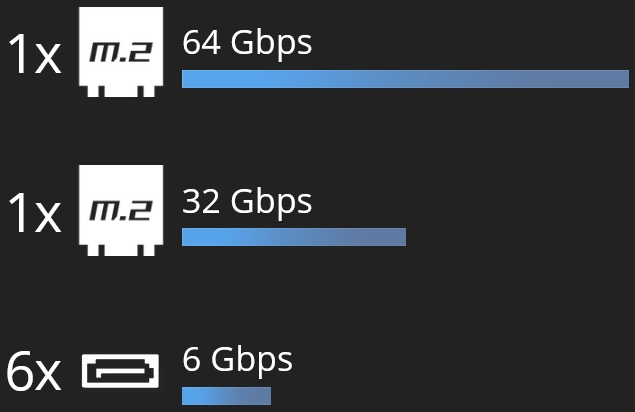 FAST AND FUTURE-READY STORAGE


MSI PRO series motherboards support all the latest storage standards, which allows users to connect any ultra-fast storage device. Higher efficiency makes your work easier.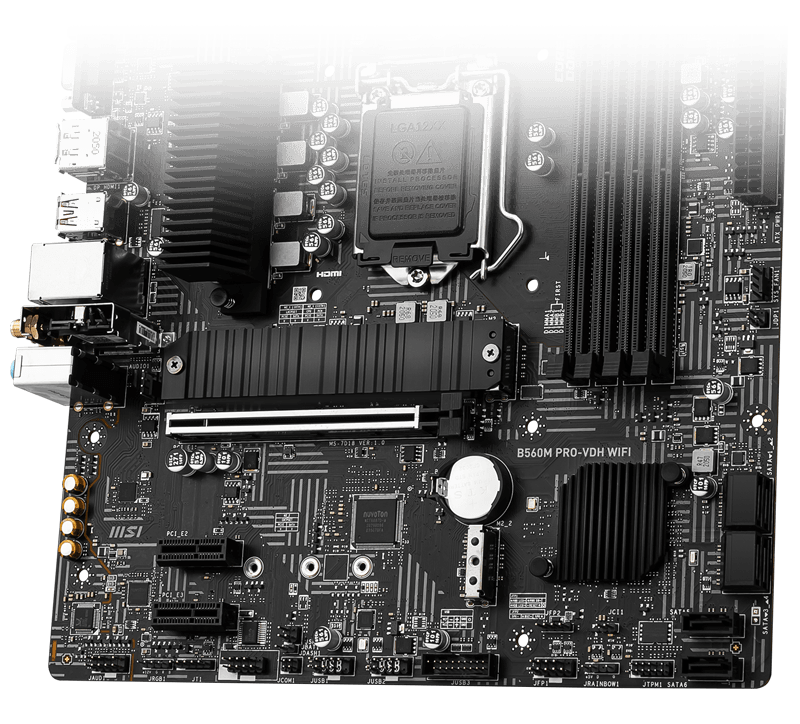 LIGHTNING GEN 4 PCI-E


MSI lightning Gen 4 PCI-E is the latest and the fastest PCI-E data transfer solution with 64Gb/s of transfer bandwidth that has doubled compared to its previous generation. PCIe 4.0 maintains both backward and forward compatibility with older and newer specifications.
LIGHTNING GEN 4 M.2


Utilizing 11th Gen Intel Core processors, MSI B560 PRO motherboards feature latest Lightning Gen 4 M.2 which is the fastest onboard storage solution on the market with up to 64 Gb/s transfer speed.
MSI M.2 AUTO SWITCH
MSI motherboard features dedicated switches that allow the first M.2 connector to automatically synchronize to either 11th or 10th Gen Intel Core processors for the maximum compatibility.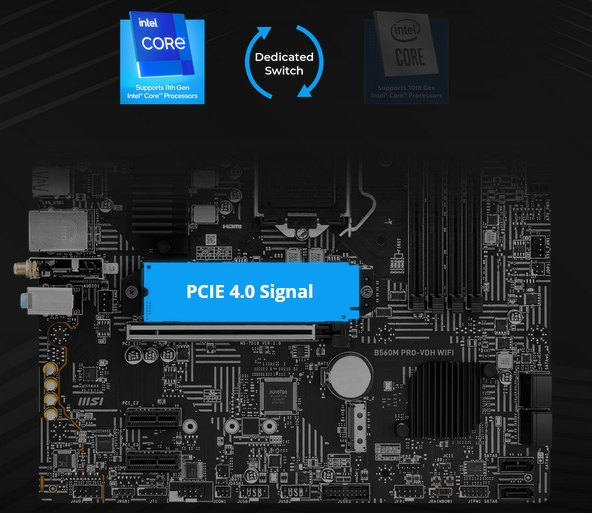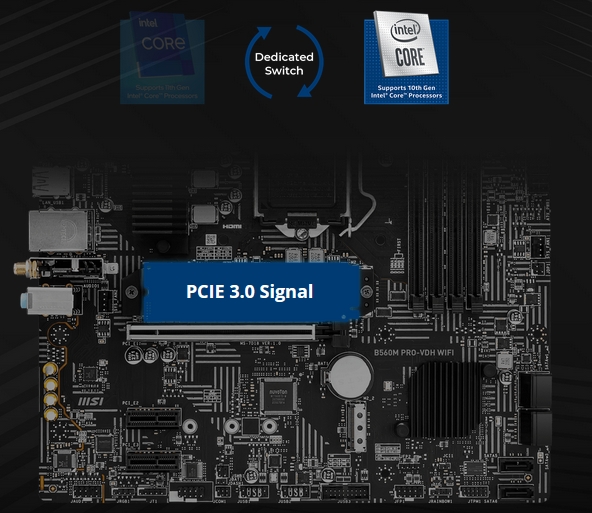 USB 3.2 GEN 1


Transfer lots of data, music and movies over USB easier. USB 3.2 Gen 1 ports are ready in both front and rear IO, providing wide variety of options to connect your USB 3.2 Gen 1 devices.