PHILIPS Full HD Curved LCD Display, 27 inches, FHD, VA, 1500R, 165Hz, HDR Ready, 2H1DP, Black, 272M8CZ Gaming Monitor
Shipping To All Egypt
50% off shipping on (Monitors - PC bundles -laptops)
Estimated to be delivered on average between 2 to 3 days
Shipping
We can ship to virtually any address in Egypt.
When you place an order, we will estimate shipping and delivery dates for you based on the availability of your items and the shipping options you choose.
Enjoy With Compumarts Warranty
عزيزى العميل
شركة سوق الكمبيوتر هى وسيط بينك وبين الوكيل ولسنا المصنعين يرجى قراءة الشروط التالية لسهولة تقديم أفضل خدمة لك : مدة الضمان 11 شهر من تاريخ الشراء ضد عيوب الصناعة وليس عطل Software . يلتزم المشتري بتوفير الفاتورة في حالة الخلاف علي تاريخ الشراء. مدة الصيانة 15 يوم قابلة للزيادة لا يحسب ضمنها أيام الخميس والجمعة والسبت والاجازات الرسمية والاعياد .
يسقط الضمان في الحالات الاتية: عدم الحرص في التعامل ودون حصر ( العيوب الناتجة عن الأجسام الحادة - أو الثني - أو الضغط - أو الإسقاط – الكسر او الشرخ ... إلخ ). عيوب ناتجة عن تعرض الجهاز لمّس كهربائي. إذا تم فتح المنتج أو التعديل فيه أو إصلاحه بواسطة أي شخص أخر خلاف الوكيل المعتمد ، أو إذا تم إصلاحه باستخدام قطع غيار غير مصرح بها، أو تعرض الرقم بالملصقات علي المنتج للإزالة أو لمحاولة الإزالة. إذا تعرض المنتج للرطوبة أو البلل، أو تعرض لظروف حرارية أو بيئية متفاوتة بدرجة شديدة أو لتغيرات سريعة في هذه الظروف، كما لا يسرى هذا الضمان إذا تعرض المنتج لعمليات التآكل والأكسدة ، أو انسكاب الأطعمة أو السوائل عليه ، أو تعرض للمنتجات الكيمائية . الأضرار الناتـجة من سوء الاستخدام (الإهمال – الحمل الزائد – عدم الإلتزام بتعليمات التشغيل الـموضحة فى كتالوج التشغيل الـمرفق مع الـمنتج - عدم الالتزام بتعليمات التخزين).
Dear customer
Compumarts is an intermediary between you and the Official Agents and we are not the manufacturers . Please read the following terms : Warranty lasts for 11 months starts from the purchase date against manufacturing defects, not software malfunction. The Customer is obligated to provide the invoice in the event of a dispute over the date of purchase. The maintenance period is 15 day-In some cases could be more- not including Thursdays, Fridays, Saturdays, and official holidays.
The warranty is voided in the following cases: Not being careful in handling (defects resulting from sharp objects, bending, pressure, dropping, fracture or crack ... etc.). Defects caused by electrical shock with the device. If the product has been repaired by unauthorized replacement parts, or the serial / label number has been removed or updated. If the product exposed to moisture or oxidation. The result of misuse (negligence - overloading - non-compliance with the operating instructions indicated in the operating catalog attached with the product - failure to link to the instructions).
Online Support
Online customer service and technical support
customers are viewing this product
PHILIPS Full HD Curved LCD Display, 27 inches, FHD, VA, 1500R, 165Hz, HDR Ready, 2H1DP, Black, 272M8CZ Gaming Monitor
Momentum
27" (68.6 cm)
1920 x 1080 (Full HD)
Curved display design for a more immersive experience
Desktop monitors offer a personal user experience, which suits a curved design very well. The curved screen provides a pleasant yet subtle immersion effect, which focuses on you at the centre of your desk.

AMD FreeSync Premium; tear free, stutter free, fluid gaming
Gaming shouldn't be a choice between choppy gameplay or broken frames. AMD FreeSync™ Premium equips serious gamers with a fluid, tear-free gameplay experience at peak performance. There are no compromises, game confidently with a high refresh rate, low framerate compensation and low latency.
165 Hz refresh rates for ultra-smooth, brilliant images
You play intense, competitive gaming. You demand display with lag free, ultra-smooth images. This Philips display redraws the screen image up to 165 times per second, effectively faster than a standard display. A lower frame rate can make enemies appear to jump from spot to spot on the screen, making them difficult targets to hit. With 165 Hz frame rate, you get those critical missing images on the screen which shows enemy movement in ultra-smooth motion so you can easily target them. With ultra-low input lag and no screen tearing, this Philips display is your perfect gaming partner
1 ms (MPRT) fast response for crisp images and smooth gameplay
MPRT (motion picture response time) is a more intuitive way to describe response time, which directly refers to the duration between seeing blurry noise and clean, crisp images. The Philips gaming monitor with 1 ms MPRT effectively eliminates smearing and motion blur and delivers sharper and more precise visuals to enhance your gaming experience. The best choice for playing thrilling and twitch-sensitive games.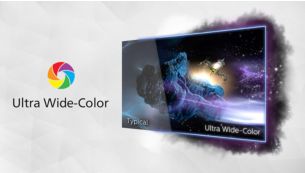 Ultra Wide-Color wider range of colours for a vivid picture
Ultra Wide-Color Technology delivers a wider spectrum of colours for a more brilliant picture. The Ultra Wide-Color wider "colour gamut" produces more natural-looking greens, vivid reds and deeper blues. Bring media entertainment, images and even productivity more alive with vivid colours from Ultra Wide-Color Technology.
High Dynamic Range (HDR) for more lifelike colourful visuals
High Dynamic Range delivers a dramatically different visual experience. With astonishing brightness, incomparable contrast and captivating colour, images come to life with much greater brightness while also featuring much deeper, more nuanced darks. It renders a fuller palette of rich new colours never before seen on a display, giving you a visual experience that engages your senses and inspires emotions.
LowBlue Mode for easy-on-the-eyes productivity
Studies have shown that just as ultra-violet rays can cause eye damage, shortwave-length blue light rays from LED displays can cause eye damage and affect vision over time. Developed for wellbeing, the Philips LowBlue Mode setting uses a smart software technology to reduce harmful shortwave blue light.
Less eye fatigue with Flicker-Free technology
Due to the way brightness is controlled on LED-backlit screens, some users experience flicker on their screen which causes eye fatigue. Philips Flicker-Free technology applies a new solution to regulate brightness and reduce flicker for more comfortable viewing.
SmartImage game mode optimised for gamers
The new Philips gaming display has quick-access OSD fine-tuned for gamers, offering you multiple options. "FPS" mode (First person shooting) improves dark themes in games, allowing you to see hidden objects in dark areas. "Racing" mode adapts the display with the fastest response time and high colour, along with image adjustments. "RTS" mode (Real-time strategy) has a special SmartFrame mode that enables highlighting of specific area and allows for size and image adjustments. Gamer 1 and Gamer 2 enable you to save personal customised settings based on different games, ensuring best performance.
VA display delivers awesome images with wide viewing angles
The Philips VA LED display uses an advanced multi-domain vertical alignment technology that gives you super-high static contrast ratios for extra-vivid and bright images. While standard office applications are handled with ease, it is especially suitable for photos, web browsing, films, gaming and demanding graphical applications. Its optimised pixel management technology gives you a 178/178 degree extra-wide viewing angle, resulting in crisp images.