Thermaltake CASE AH T600 Full Tower (CA-1Q4-00M1WN-00)
Shipping To All Egypt
50% off shipping on (Monitors - PC bundles -laptops)
Estimated to be delivered on average between 2 to 3 days
Shipping
We can ship to virtually any address in Egypt.
When you place an order, we will estimate shipping and delivery dates for you based on the availability of your items and the shipping options you choose.
Enjoy With Compumarts Warranty
عزيزى العميل
شركة سوق الكمبيوتر هى وسيط بينك وبين الوكيل ولسنا المصنعين يرجى قراءة الشروط التالية لسهولة تقديم أفضل خدمة لك : مدة الضمان 11 شهر من تاريخ الشراء ضد عيوب الصناعة وليس عطل Software . يلتزم المشتري بتوفير الفاتورة في حالة الخلاف علي تاريخ الشراء. مدة الصيانة 15 يوم قابلة للزيادة لا يحسب ضمنها أيام الخميس والجمعة والسبت والاجازات الرسمية والاعياد .
يسقط الضمان في الحالات الاتية: عدم الحرص في التعامل ودون حصر ( العيوب الناتجة عن الأجسام الحادة - أو الثني - أو الضغط - أو الإسقاط – الكسر او الشرخ ... إلخ ). عيوب ناتجة عن تعرض الجهاز لمّس كهربائي. إذا تم فتح المنتج أو التعديل فيه أو إصلاحه بواسطة أي شخص أخر خلاف الوكيل المعتمد ، أو إذا تم إصلاحه باستخدام قطع غيار غير مصرح بها، أو تعرض الرقم بالملصقات علي المنتج للإزالة أو لمحاولة الإزالة. إذا تعرض المنتج للرطوبة أو البلل، أو تعرض لظروف حرارية أو بيئية متفاوتة بدرجة شديدة أو لتغيرات سريعة في هذه الظروف، كما لا يسرى هذا الضمان إذا تعرض المنتج لعمليات التآكل والأكسدة ، أو انسكاب الأطعمة أو السوائل عليه ، أو تعرض للمنتجات الكيمائية . الأضرار الناتـجة من سوء الاستخدام (الإهمال – الحمل الزائد – عدم الإلتزام بتعليمات التشغيل الـموضحة فى كتالوج التشغيل الـمرفق مع الـمنتج - عدم الالتزام بتعليمات التخزين).
Dear customer
Compumarts is an intermediary between you and the Official Agents and we are not the manufacturers . Please read the following terms : Warranty lasts for 11 months starts from the purchase date against manufacturing defects, not software malfunction. The Customer is obligated to provide the invoice in the event of a dispute over the date of purchase. The maintenance period is 15 day-In some cases could be more- not including Thursdays, Fridays, Saturdays, and official holidays.
The warranty is voided in the following cases: Not being careful in handling (defects resulting from sharp objects, bending, pressure, dropping, fracture or crack ... etc.). Defects caused by electrical shock with the device. If the product has been repaired by unauthorized replacement parts, or the serial / label number has been removed or updated. If the product exposed to moisture or oxidation. The result of misuse (negligence - overloading - non-compliance with the operating instructions indicated in the operating catalog attached with the product - failure to link to the instructions).
Online Support
Online customer service and technical support
customers are viewing this product
Thermaltake CASE AH T600 Full Tower (CA-1Q4-00M1WN-00)
Helicopter Inspired Design
The AH T600 is a helicopter inspired full tower case constructed with solid steel all around and side vents on each end. Two beautifully designed 5mm tempered glass panels on each side and three 3mm small tempered glass windows at the front not only helps you showcase interior components but also highlights the helicopter design concept.
Tempered Glass Window
The chassis comes with two 5mm tempered glass panels, thicker and more scratch resistant when compared to standard acrylic. Swing doors on the left and right sides allow users to easily access the internal components as well as the ability to remove the doors entirely for complete access to the internals. On top of this, the enlarged window design enables you to display and admire all your components in their full RGB glory
Vertical GPU Mount and Patented Rotational PCI-E 8 Slot
Specially designed with dual GPU placement options, the AH T600 has support for both vertical and horizontal graphics card layouts. With dual PCI-E slot designs (and an optional PCI-e riser cable), the included riser GPU support bracket will not only prevent the graphics card from sagging, but also help reduce the overall weight on the motherboard.
Thermaltake TT Premium PCI-E 3.0 Extender (Optional) – Supports a wide range of GPU solutions. This is an extreme high-speed cable with highly-routable design, EMI shielding with conducting polymer are crafted for meeting the most demanding system. Available in 300mm, 600mm and 1000mm in length.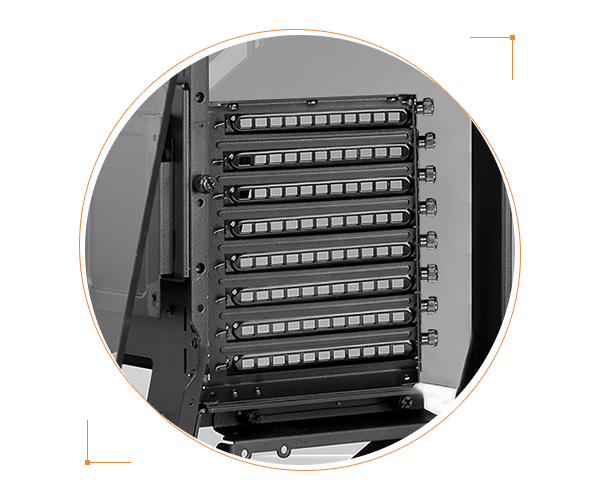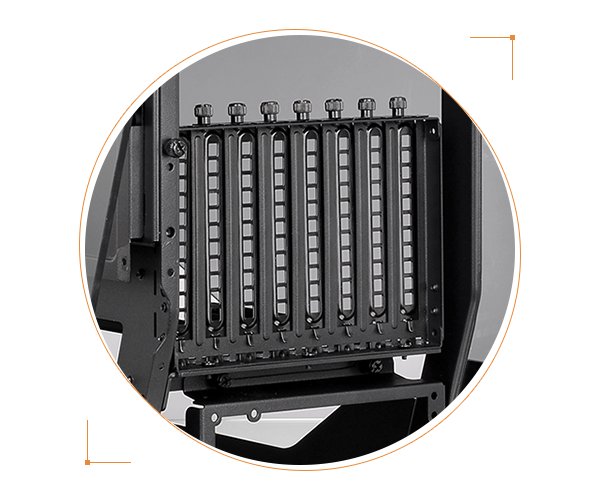 Handy I/O Ports
Two 3.0 USB, one 2.0 USB, and one USB 3.1 (Gen 2) Type C port placed at the panel to grant direct acc
P/N

CA-1Q4-00M1WN-00

SERIES

AH Series

MODEL

AH T600

CASE TYPE

Full Tower

DIMENSION (H X W X D)

628.3 x 337 x 763 mm

(27.74 x 13.3 x 30 inch)

NET WEIGHT

20.64 kg / 45.5 lb

SIDE PANEL

5mm Tempered Glass x 2

COLOR

Exterior & Interior : Black

MATERIAL

SPCC

DRIVE BAYS

-ACCESSIBLE

-HIDDEN

EXPANSION SLOTS

8

MOTHERBOARDS

6.7" x 6.7" (Mini ITX), 9.6" x 9.6" (Micro ATX),

12" x 9.6" (ATX), 12" x 10.5" (E-ATX)

I/O PORT

1 x USB 3.1 (Gen 2) Type C, USB 3.0 x 2, USB 2.0 x 1, HD Audio x 1

PSU

Standard PS2 PSU (optional)

FAN SUPPORT

Front:

4 x 120mm or 3 x 120mm or 2 x 120mm or 1 x 120mm

3 x 140mm or 2 x 140mm or 1 x 140mm

Top:

3 x 120mm or 2 x 120mm or 1 x 120mm

2 x 140mm or 1 x 140mm

Right:

3 x 120mm or 2 x 120mm or 1 x 120mm

2 x 140mm or 1 x 140mm

RADIATOR SUPPORT

Front:

1 x 480mm or 1 x 360mm or 1 x 240mm or 1 x 120mm

1 x 420mm or 1 x 280mm or 1 x 140mm

Top:

1 x 360mm or 1 x 240mm or 1 x 120mm

1 x 280mm or 1 x 140mm

Right:

1 x 360mm or 1 x 240mm or 1 x 120mm

1 x 280mm or 1 x 140mm

CLEARANCE

CPU cooler height limitation: 195mm

VGA length limitation: 300mm(With Water Pump)

440mm(Without Water Pump)

PSU length limitation: 200mm