Thermaltake CASE View 37 ARGB Edition Mid-Tower Chassis
Shipping To All Egypt
50% off shipping on (Monitors - PC bundles -laptops)
Estimated to be delivered on average between 2 to 3 days
Shipping
We can ship to virtually any address in Egypt.
When you place an order, we will estimate shipping and delivery dates for you based on the availability of your items and the shipping options you choose.
Enjoy With Compumarts Warranty
عزيزى العميل
شركة سوق الكمبيوتر هى وسيط بينك وبين الوكيل ولسنا المصنعين يرجى قراءة الشروط التالية لسهولة تقديم أفضل خدمة لك : مدة الضمان 11 شهر من تاريخ الشراء ضد عيوب الصناعة وليس عطل Software . يلتزم المشتري بتوفير الفاتورة في حالة الخلاف علي تاريخ الشراء. مدة الصيانة 15 يوم قابلة للزيادة لا يحسب ضمنها أيام الخميس والجمعة والسبت والاجازات الرسمية والاعياد .
يسقط الضمان في الحالات الاتية: عدم الحرص في التعامل ودون حصر ( العيوب الناتجة عن الأجسام الحادة - أو الثني - أو الضغط - أو الإسقاط – الكسر او الشرخ ... إلخ ). عيوب ناتجة عن تعرض الجهاز لمّس كهربائي. إذا تم فتح المنتج أو التعديل فيه أو إصلاحه بواسطة أي شخص أخر خلاف الوكيل المعتمد ، أو إذا تم إصلاحه باستخدام قطع غيار غير مصرح بها، أو تعرض الرقم بالملصقات علي المنتج للإزالة أو لمحاولة الإزالة. إذا تعرض المنتج للرطوبة أو البلل، أو تعرض لظروف حرارية أو بيئية متفاوتة بدرجة شديدة أو لتغيرات سريعة في هذه الظروف، كما لا يسرى هذا الضمان إذا تعرض المنتج لعمليات التآكل والأكسدة ، أو انسكاب الأطعمة أو السوائل عليه ، أو تعرض للمنتجات الكيمائية . الأضرار الناتـجة من سوء الاستخدام (الإهمال – الحمل الزائد – عدم الإلتزام بتعليمات التشغيل الـموضحة فى كتالوج التشغيل الـمرفق مع الـمنتج - عدم الالتزام بتعليمات التخزين).
Dear customer
Compumarts is an intermediary between you and the Official Agents and we are not the manufacturers . Please read the following terms : Warranty lasts for 11 months starts from the purchase date against manufacturing defects, not software malfunction. The Customer is obligated to provide the invoice in the event of a dispute over the date of purchase. The maintenance period is 15 day-In some cases could be more- not including Thursdays, Fridays, Saturdays, and official holidays.
The warranty is voided in the following cases: Not being careful in handling (defects resulting from sharp objects, bending, pressure, dropping, fracture or crack ... etc.). Defects caused by electrical shock with the device. If the product has been repaired by unauthorized replacement parts, or the serial / label number has been removed or updated. If the product exposed to moisture or oxidation. The result of misuse (negligence - overloading - non-compliance with the operating instructions indicated in the operating catalog attached with the product - failure to link to the instructions).
Online Support
Online customer service and technical support
customers are viewing this product
Thermaltake CASE View 37 ARGB Edition Mid-Tower Chassis (

CA-1J7-00M1WN-04)
Thermaltake View 37 ARGB Edition mid-tower chassis involves a gull-wing window panel for a view from more than just one angle. Features to built-in two 200mm 5V ARGB LED front fans and one 120mm 5V ARGB LED rear fan which are addressable to deliver 16.8 million-color RGB illumination and unparalleled ventilation.
This model comes ready to sync with RGB capable motherboards from Asus, Gigabyte, MSI and AsRock. The View 37 ARGB is built for our top-tier cooling and lighting hardware, supporting custom liquid cooling loops as well as vertical GPU layouts and RGB lighting. Build your ultimate show-piece with the new View 37 ARGB.


Dual Built-in 200mm 5V ARGB LED Case Fans
Preinstalled with two 200mm 5V ARGB LED front fans featuring hydraulic bearing, 9 addressable LEDs and 16.8 million-color illumination to guarantee high airflow and custom system designs to show off your PC design skills.
The 5V ARGB LED fans can be controlled using a simple interface built into the I/O panel that cycles through 7 different lighting modes and a range of different color options.
*Long press on RGB button for 3 seconds , fans will blink twice which now are controlled by MB software, and vice versa.

Built-in 120mm 5V ARGB LED Fan
What comes preinstalled at the rear is a 120mm 5V ARGB LED fan with hydraulic bearing, 9 addressable LEDs and 16.8 million-color vivid lighting. Cooling performance and styling will never suffer.

Riser GPU Support Bracket
Specially designed for dual GPU placement options, View 37 ARGB Edition has the support for vertical graphic card layout with dual PCI-E slots design. Integrated riser GPU support bracket not only prevents the graphic card from sagging, but also helps to reduce the weight on the motherboard PCI-E slots.



Enlarged Transparent Gull-wing Window Panel
The totally unique gull-wing window on the View 37 ARGB gives you amazing views of your hardware from any angle. Since the new View 37 ARGB supports vertical GPU placement and vertical radiator placement – your ultimate RGB system is just a step away.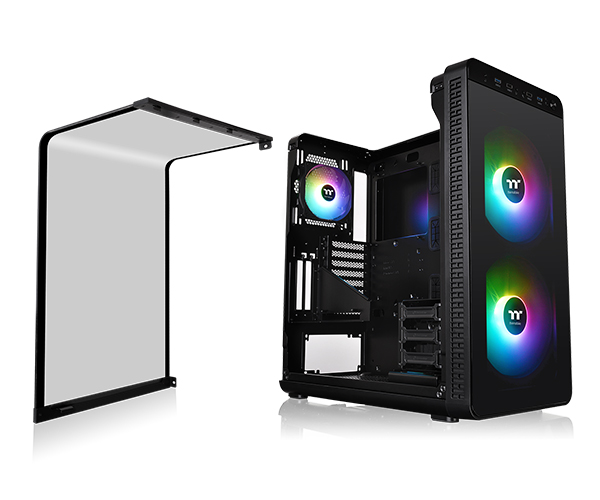 P/N

CA-1J7-00M1WN-04

SERIES

View

CASE TYPE

Mid Tower

DIMENSION (H X W X D)

525 x 261 x 538mm (20.6 x 10.3 x 21.2 inch)

NET WEIGHT

11.3 kg / 24.91 lb

SIDE PANEL

L-type transparent window

COLOR

Exterior & Interior : Black

MATERIAL

SPCC

COOLING SYSTEM

Front (Intake):

200 x 200 x 30mm Addressable RGB fan

(800rpm, 29.2dBA) x 2

Rear (exhaust):

120 x 120 x 25 mm Addressable RGB fan

(1000rpm, 27.2dBA) x 1

DRIVE BAYS

-ACCESSIBLE

-HIDDEN

EXPANSION SLOTS

8 + 2

MOTHERBOARDS

6.7" x 6.7" (Mini ITX), 9.6" x 9.6" (Micro ATX), 12" x 9.6" (ATX), 12" x 13" (E-ATX)

I/O PORT

USB 3.0 x 2, USB 2.0 x 2, HD Audio x 1,

PSU

Standard PS2 PSU (optional)

FAN SUPPORT

Front: 3 x 120mm, 3x 140mm, 2 x 200mm

Rear: 1 x 120mm, 1 x 140mm

Right Side(In front of M/B Tray): 3 x 120mm, 3 x 140mm

Bottom: 1 x 120mm, 1 x 140mm

RADIATOR SUPPORT

Front: 1 x 360mm , 1 x 280mm

Rear: 1 x 120mm , 1 x 140mm

Right Side(In front of M/B Tray): 1 x 360mm, 1 x 420mm

CLEARANCE

CPU cooler height limitation: 180mm

PSD length limitation:220mm

VGA length limitation: 410mm (Without Front Fan)