THERMALTAKE ToughDesk 300 RGB BATTLESTATION GAMING DESK
Shipping To All Egypt
50% off shipping on (Monitors - PC bundles -laptops)
Estimated to be delivered on average between 2 to 3 days
Shipping
We can ship to virtually any address in Egypt.
When you place an order, we will estimate shipping and delivery dates for you based on the availability of your items and the shipping options you choose.
Enjoy With Compumarts Warranty
عزيزى العميل
شركة سوق الكمبيوتر هى وسيط بينك وبين الوكيل ولسنا المصنعين يرجى قراءة الشروط التالية لسهولة تقديم أفضل خدمة لك : مدة الضمان 11 شهر من تاريخ الشراء ضد عيوب الصناعة وليس عطل Software . يلتزم المشتري بتوفير الفاتورة في حالة الخلاف علي تاريخ الشراء. مدة الصيانة 15 يوم قابلة للزيادة لا يحسب ضمنها أيام الخميس والجمعة والسبت والاجازات الرسمية والاعياد .
يسقط الضمان في الحالات الاتية: عدم الحرص في التعامل ودون حصر ( العيوب الناتجة عن الأجسام الحادة - أو الثني - أو الضغط - أو الإسقاط – الكسر او الشرخ ... إلخ ). عيوب ناتجة عن تعرض الجهاز لمّس كهربائي. إذا تم فتح المنتج أو التعديل فيه أو إصلاحه بواسطة أي شخص أخر خلاف الوكيل المعتمد ، أو إذا تم إصلاحه باستخدام قطع غيار غير مصرح بها، أو تعرض الرقم بالملصقات علي المنتج للإزالة أو لمحاولة الإزالة. إذا تعرض المنتج للرطوبة أو البلل، أو تعرض لظروف حرارية أو بيئية متفاوتة بدرجة شديدة أو لتغيرات سريعة في هذه الظروف، كما لا يسرى هذا الضمان إذا تعرض المنتج لعمليات التآكل والأكسدة ، أو انسكاب الأطعمة أو السوائل عليه ، أو تعرض للمنتجات الكيمائية . الأضرار الناتـجة من سوء الاستخدام (الإهمال – الحمل الزائد – عدم الإلتزام بتعليمات التشغيل الـموضحة فى كتالوج التشغيل الـمرفق مع الـمنتج - عدم الالتزام بتعليمات التخزين).
Dear customer
Compumarts is an intermediary between you and the Official Agents and we are not the manufacturers . Please read the following terms : Warranty lasts for 11 months starts from the purchase date against manufacturing defects, not software malfunction. The Customer is obligated to provide the invoice in the event of a dispute over the date of purchase. The maintenance period is 15 day-In some cases could be more- not including Thursdays, Fridays, Saturdays, and official holidays.
The warranty is voided in the following cases: Not being careful in handling (defects resulting from sharp objects, bending, pressure, dropping, fracture or crack ... etc.). Defects caused by electrical shock with the device. If the product has been repaired by unauthorized replacement parts, or the serial / label number has been removed or updated. If the product exposed to moisture or oxidation. The result of misuse (negligence - overloading - non-compliance with the operating instructions indicated in the operating catalog attached with the product - failure to link to the instructions).
Online Support
Online customer service and technical support
customers are viewing this product
ToughDesk 300 RGB BATTLESTATION GAMING DESK
Electric height-adjustable gaming desk with a full surface RGB mouse pad and lighting effects controllable via software. Exterior design and functionalities conceptualized for both office use and gaming!
FULL SURFACE RGB MOUSE PAD
The ToughDesk 300 RGB comes with a cloth mouse pad that is full surface, optimized with semi-coarse textured weave, and constructed with a solid sewing edge design that lights up your battles with RGB colors!
Stunning 16.8 million RGB color illuminations provide the brightest visibility and eye-catching style for your gaming sessions. Take it a step further and choose among 7 different lighting effect settings coupled with brightness and lighting speed adjustments.
ELEVATE YOUR GAME
Ergonomic design with electric height adjustable buttons that allows users to switch between sitting or standing positions, and adjust desk height between 70cm/27.5" to 110cm/43.3" according to your needs.
SMART PANEL DESIGN
Utilizes a 6-button controller for easy operation along with a digital display board that shows accurate height adjustments. The smart controller panel can be set up with 4 height memory settings, so users can store and conveniently switch to their desired height settings with a push of a button.
STURDY FRAME DESIGN
Steel-constructed frame with anti-scratch and high-pressure laminated desktop material that is 2.5cm in thickness. The ToughDesk 300 RGB with Built-in RGB Mouse Pad is designed for maximum stability and durability.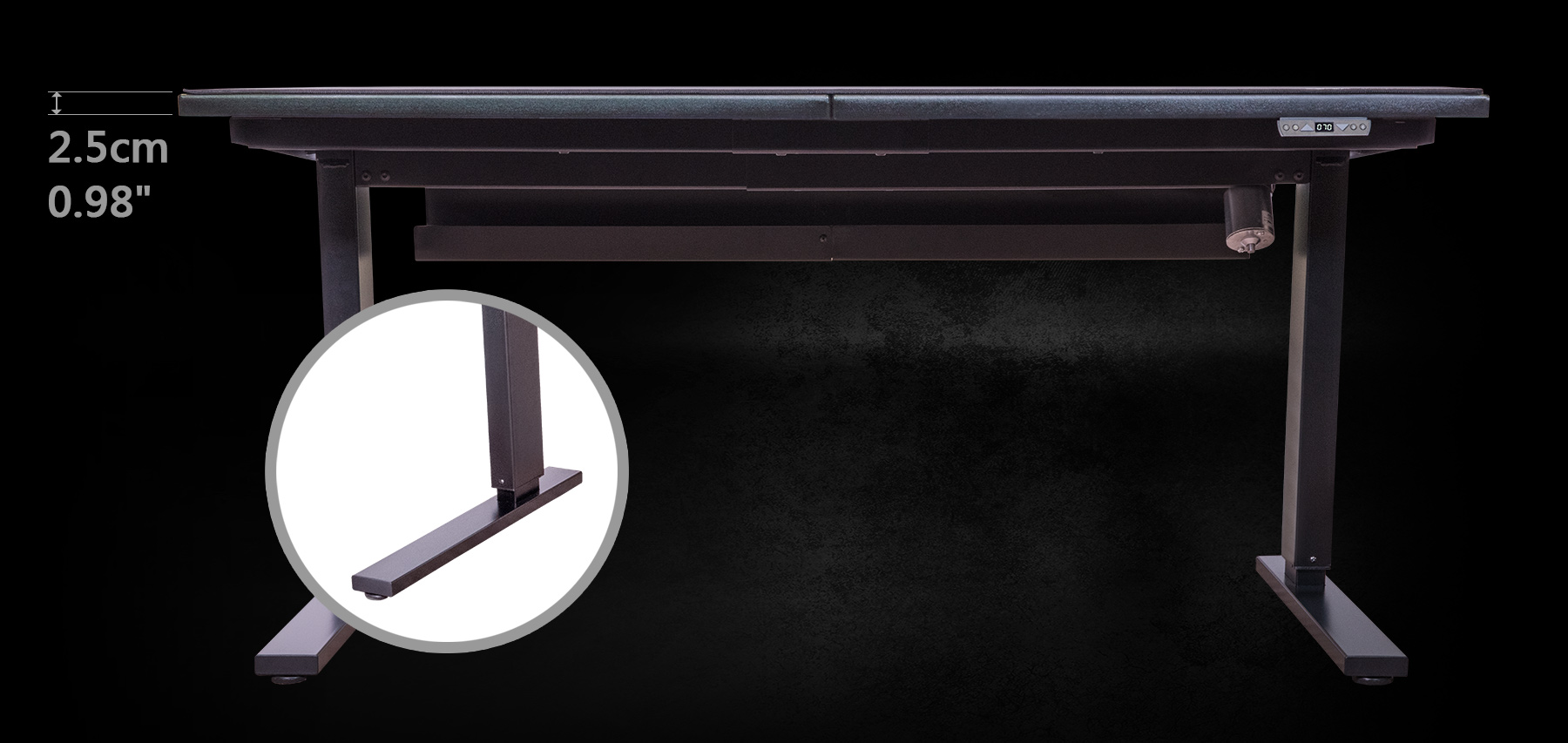 SMART CABLE MANAGEMENT
Keep your cables neat, tidy, and organized with the cable management tray system for clutter free performance of your desk.
POWERFUL WEIGHT CAPACITIY
The ToughDesk 300 RGB with Built-in RGB Mouse Pad is designed to support and withstand your most intense gaming commands. Built with a high quality motor that has a maximum load of 150kg/330 lbs, you can easily adjust your desk height between 70cm/27.5" and 110cm/43.3" smoothly. It ensures smooth and silent operation when adjusting heights even with a heavy gaming system.
P/N

GGD-EDN-BKEINX-01

MOTOR

Voltage : Input 110-240V, 50/60Hz, 1.5A Output 29V, 2.5A

Speed : 49 RPM (+/- 5%) / 0.67" per second

Motor : Single motor with two-stage lifting system

Duty cycle : 10%. Max 2 mins on/ 18 mins off.

Torque : 16 Nm

Safety certifications : Motor: CE/UL/TUV

Controller : Standard 2-Button and Memory 4-Button

SPEC_FRAME

Size : 160cm(L) x 80cm(W) / 62.99"(L) x 31.49"(W)

Height range : 70cm ~110cm / 27.5" ~ 43.3"

Foot size : 58.5cm(L) x 7.5cm(W) x 2.5cm(H) / 23"(L) x 2.95"(W) x 0.98"(H)

Max Load : 150 kg / 330 lb

Material : Steel-constructed frame for max stability

Cable management : Yes

SPEC_DESKTOP

Size : 160cm(L) x 80cm(W) / 62.99"(L) x 31.49"(W)

Desktop thickness : 2.5cm / 0.98"

Max desktop support : Up to super tower chassis

(dimensions: 27.2" x 13.5" x 25.4")

Material : MDF desktop - premium material with anti-scratch / high-pressure Laminate P2

Scratch coating : Yes

Table feet material : Iron

OTHERS

Top finish : Black

Frame color : Black

Included extra large black mousepad : 1600mm(L) x 800mm(W) x 4mm(H) / 63.2"(L) x 27.7"(W) x 0.157"(H)

Shipping dimensions : 88cm(L) x 88cm(W) x 28.5cm(H) / 34.64"(L) x 34.64"(W) x 11.22"(H)

Warranty : 2 year warranty (desktop, motor, frame, controller)